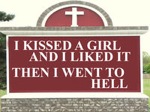 Havens Corners Church in Blacklick, Ohio (just outside of Columbus) is getting a little flack for their sign out front. Borrowing from Katy Perry's hit song "I Kissed A Girl," the sign reads:
I KISSED A GIRL

AND I LIKED IT

THEN I WENT TO HELL
Dave Allison, pastor of Havens Corners, thinks the sign is a "loving warning to teens." He told The Columbus Dispatch that "The Scriptures tell us that you should not do what the song tells you to do. The Scriptures are not ambiguous on this issue."
It appears that Dave is forgetting that the Scriptures are also not ambiguous on how you're supposed to treat people. Last time I checked, there were more references in the Bible on how to love your neighbor than on how not to love them.